Superflus is a non-profit foundation, based in The Netherlands, dedicated to the presentation, production and criticism of contemporary art.
Superflus refers to a postcard of a Parisian wall with the graffito "Ne traivaillez jamais" (never work) and the caption added "Les conseils superflus" (a superfluous or common sense advice).
Superflus explores the potential of superfluity. It wonders whether art is (being made) superfluous and whether that makes it (ir)relevant.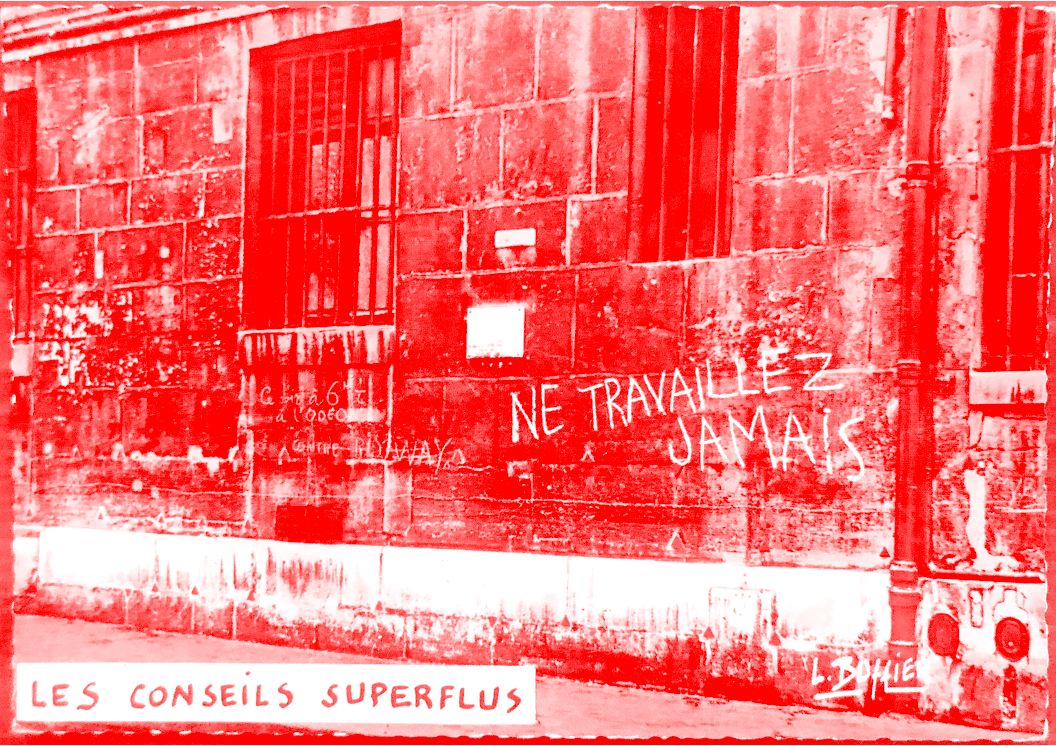 Louis Buffier postcard featuring Guy Debord graffiti:
Les Conseils Superflus.
Ne travaillez jamais
, ca. 1965–1966, postcard 15 x 10,5 cm
—
CONTACT
—
BOARD
Rita Ouédraogo (chairperson), Clara Ronsdorf (secretary), Viktor Stelder (treasury)
—
FOUNDERS
Elsbeth Dekker, Robbie Schweiger
—
PROJECTS
MONEYFESTATION: DIGITAL PROTEST IN COLLABORATION WITH ARTIST BABI BADALOV
YOU ARE NOT ANYONE'S STORY
—
STATUTES
POLICY
—
Graphic design by Tariq Heijboer